Christmas Raffle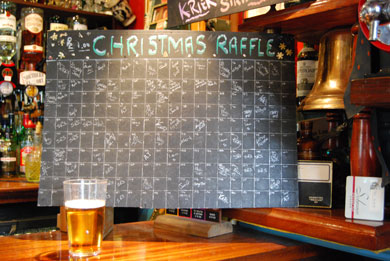 Well the nights have long since drawn in and the weather is colder. However the fire has been keeping our patrons warm. This means it is time for the annual
Roebuck Christmas Raffle.
It only costs £1 per entry and all the proceeds go to buy a selection of wines, beers and spirits. There will be up to
20
prizes so lots of choice. Don't delay on the chance to re-stock your booze cupboard for the New Year. The Draw will hopefully take place on
Boxing Day
and the numbers on the chalk board will be disappearing fast. Just ask the bar staff for further details
Guest Beers
Our latest guest beers are both pale ales. We have the ever popular Shepherd Neame's
Whitstable Pale Ale
(3.9% ABV) and Triple FFF's
Moondance
(4.2% ABV). Do pop in and try them.